Getting to the Heart of Home Building
A HISTORY OF HOME BUILDING
The Daniels Corporation was founded in 1983 by John H. Daniels, Chairman Emeritus. In a career that has spanned nearly seven decades, the former CEO of Cadillac Fairview Development Corporation has left an indelible mark on the quality of the places in which people live, work, play, create, learn, and shop.
Over the course of his career Mr. Daniels has played a key role in the development of Canadian landmarks such as the Toronto Eaton Centre and TD Centre, the 4,700-acre Erin Mills community in Mississauga and the brownfields reclamation of the Goodyear Tire and Rubber plant in Etobicoke.
Mr. Daniels has been committed to building a legacy of impact. His sense of social responsibility is vividly captured in the various philanthropic activities he has supported personally and through both The Daniels Corporation and The John and Myrna Daniels Foundation. For 25-years, The Daniels Corporation has acted as Presenting Sponsor of Toronto Taste, Second Harvest's primary fundraising event. He is also responsible for the single largest land donation ever made to Habitat for Humanity (Canada) by a private company. The John and Myrna Daniels Foundation has made significant donations to community institutions, including the University of Toronto and the University Health Network. The University of Toronto's John H. Daniels Faculty of Architecture, Landscape, and Design and the iconic Daniels Building at One Spadina Crescent are a fitting testament to Mr. Daniels' contribution to our city and country. In 2017, John and Myrna Daniels were honoured with an Outstanding Philanthropist Award.
Mr. Daniels drive to innovate and add value to every community we build in is a principle that all Daniels team members are guided by today in their day-to-day work.
At The Daniels Corporation, we build with a passion for creating vibrant communities in every sense of the word.
Since 1983, we have built more than 35,000 award-winning homes and apartments, master-planned mixed-use, mixed-income and multi-generational communities as well as cultural, institutional, commercial, and retail spaces.
Today, Daniels' President and CEO, Mitchell Cohen is guiding the development of master-planned communities and elevating the importance of city-building and social impact throughout the real estate industry.
Under the leadership of a socially minded and creative management team, we have earned our standing as one of Canada's largest preeminent builders and developers. For over three decades, we have been a fully inclusive city-builder, always looking beyond the bricks and mortar to integrate opportunities for social, cultural, and economic well-being to positively impact the communities in which we build.
We plan, design, develop and build our residential and commercial properties in-house, and manage our rental communities and commercial properties, enabling the ultimate in quality control and streamlined service. In essence, we are an all-inclusive service provider – a company dedicated to seeing each project through to construction completion and beyond.
Our unwavering commitment to design innovation, construction excellence, customer care and social impact, and our approach to environmental sustainability is what sets us apart in our industry.

INNOVATION IN MASTER-PLANNING
We have established a unique approach to development that transforms underutilized land into sought-after master-planned communities with an emphasis on transit-orientated locations. Our land-use planning is based on the principle of integration into the existing urban fabric, creating neighbourhoods that fit seamlessly into their surroundings, providing a broad customer base for homebuyers and tenants, retailers, and commercial businesses. Utilizing creative business strategies and partnerships has also been central to the success of Daniels master-planned communities.
Daniels partnered with Toronto Community Housing to revitalize 53 of the 69 acres in Toronto's Regent Park. Today, the revitalization is being looked at around the world as the gold standard by which challenged urban neighbourhoods can be re-imagined as healthy, sustainable communities.
Our Daniels Waterfront – City of the Arts community at Toronto's East Bayfront has become a destination for arts, culture, and creativity, and includes residential, office, retail, academic, arts and cultural spaces. We have also partnered with renowned filmmaker Ivan Reitman to build TIFF Bell Lightbox in Toronto's Entertainment District. This mixed-use development includes restaurants, ground floor retail, a commercial parking garage and the 44-storey Festival Tower residence.
Our Daniels Erin Mills community included the first purpose-built rental residence in Mississauga in over two decades in partnership with Sun Life. In our Mississauga City Centre community, we partnered with the Region of Peel to develop an affordable rental community for Peel Living next to a market condominium residence.
We are also proud of our partnerships with industry leaders such as Oxford Properties at Mississauga's Square One District, Choice Properties at Daniels MPV in Brampton and Scarborough's Golden Mile neighbourhood, DiamondCorp and Kilmer Group at Daniels FirstHome™ Keelesdale in Toronto, and with BAIF Developments at The Thornhill community in Vaughan.
A PEOPLE-FIRST APPROACH TO BUILDING
We are passionate about creating inclusive communities that offer a diverse range of housing options at all levels of the market – in ownership and rental, seniors, and student housing.
We have long been a champion of affordable housing and have built more affordable homes than any other private sector company in Canada.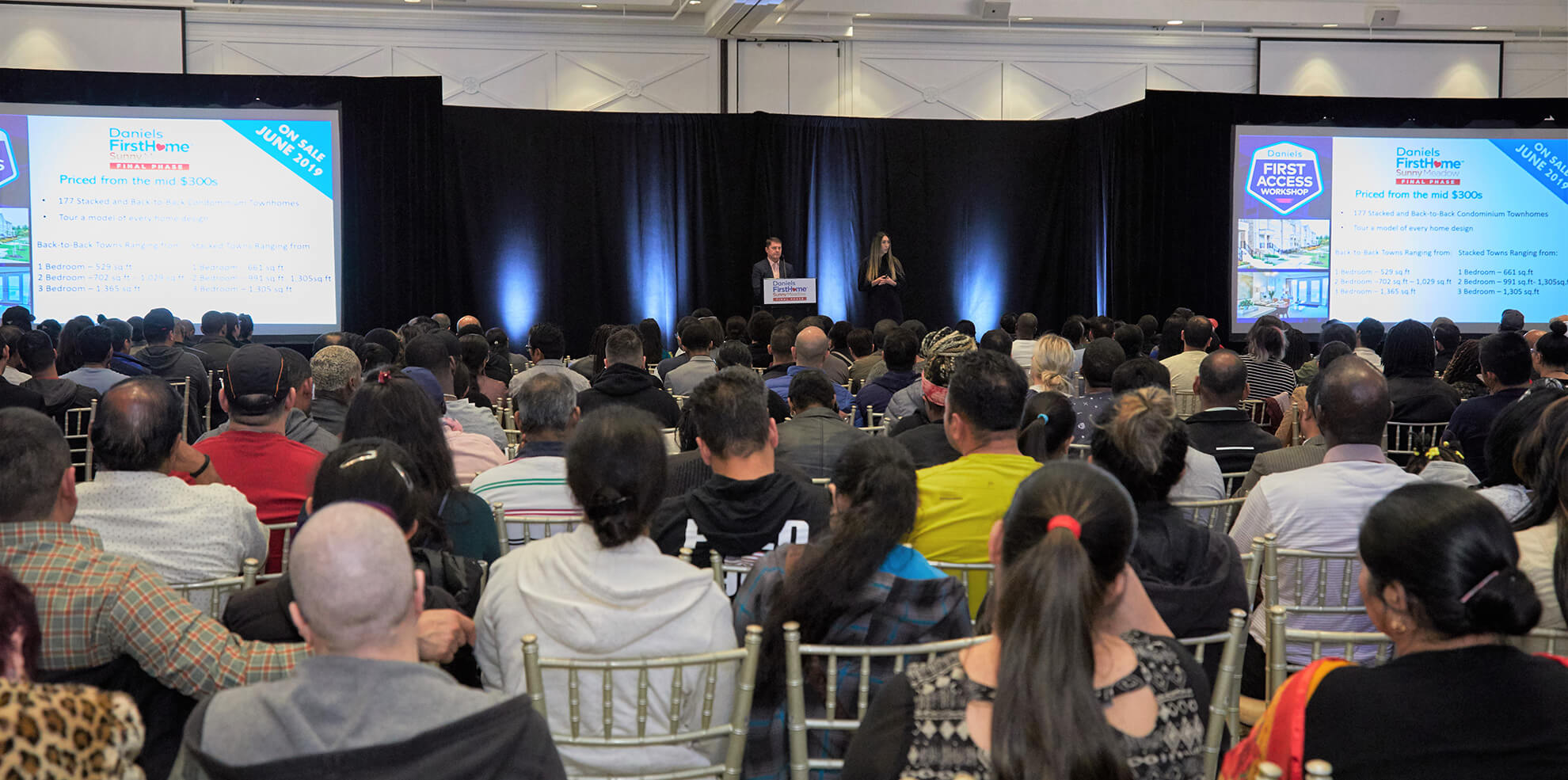 Daniels was the first developer to offer purpose-built rental housing in the GTA in over 25 years through our Gateway Rental Communities. In partnership with Sun Life, we have built market rental buildings in Toronto's Regent Park and in Mississauga's Erin Mills. Daniels FirstHome™ Communities across the GTA provide quality-built residences priced within the reach of first-time buyers. We are also partnering with Amica Senior Lifestyles, Chartwell Retirement Residences and WellTower to deliver a continuum of housing options for older adults across the GTA, as well as building a new student residence in partnership with the University of Toronto.
We pride ourselves on offering programs that make homeownership affordable and accessible for first-time buyers. This has been achieved through numerous innovative programs designed to assist with the down payment and lower carrying costs. We also offer First Access Workshops designed to provide potential first-time buyers with an extensive education on homeownership, including budgeting, closing costs, property taxes, mortgage commitments and all the intricacies of the homebuying process.
On the commercial end of the spectrum, Daniels Commercial Leasing creates outstanding business opportunities for national brand companies, local businesses, and grassroots not-for-profit organizations.
BUILDING WITH IMPACT
As a builder and developer, we recognize that we have a tremendous amount of responsibility. We understand that quality of life is created by much more than physical buildings, and we continue to go above and beyond to not only build with excellence but also to look to the social, culture and economic infrastructure of where we are building and find ways where we can support.
We have continuously demonstrated that the value of embedding arts and culture into the fabric of new communities has many benefits – not only does it breathe life into our communities, but it also creates opportunities to support the growth of local organizations, businesses, and artists. Whether it's local art in our residential buildings and commercial spaces or a catering contract from a local business for an event, we always look to the communities where we build to maximize our social impact.
It is this approach that enables us to build innovative communities that create value for everyone. This is the vision that underlines our philosophy and corporate promise to 'Love Where You Live'.