Creating healthy, vibrant communities throughout the GTA.
The Daniels Corporation honours
John H. Daniels

, Founder and Chairman Emeritus
Photo Credit: Al Gilbert C.M
It is with great sadness that The Daniels Corporation announces the passing of Founder and Chairman Emeritus, John H. Daniels. In a career that spanned nearly seven decades, Mr. Daniels dedicated his life to giving back to his community, leaving an indelible mark on the quality of the places in which people live, work and play.
Building Communities Beyond
Bricks and Mortar
At Daniels, we build with a passion for creating vibrant communities in every sense of the word. Looking beyond the bricks and mortar, we carefully consider the social, cultural and economic infrastructures that create a unique sense of place.
PEOPLE, THE PLANET, AND PARTNERSHIPS
Bringing Impact To Life
This year, we are pleased to share two important pieces of work – one that reports on the three key areas of our work: people, the planet and partnerships, Daniels' 2021-2022 Impact Report, and the other, our sustainability framework called, Daniels' Decarbonization Roadmap – an outline of Daniels' clear action plan for the next two development cycles, setting the path to becoming the leading low-carbon builder and developer in the Greater Toronto Area (GTA).
Our work toward both Truth and Reconciliation continues
Daniels remains committed to educating ourselves and understanding the truth about our shared history with Indigenous Peoples. As we work and build in communities across the Greater Toronto Area (GTA), we acknowledge these are treaty lands and part of the traditional territory of several Indigenous nations.
Daniels Gateway Rental Communities
Uniquely designed to support the transition from renting to owning.
Daniels Gateway Rental Communities provides a unique rental opportunity unlike any other in the GTA. The Gateway concept is the first to incorporate value-packed townhomes and apartments in a diverse range of award-winning communities. Tenants can benefit from the Home Investment Program (HIP™) and can earn a credit of $500 per month to put toward the purchase price of a new Daniels home.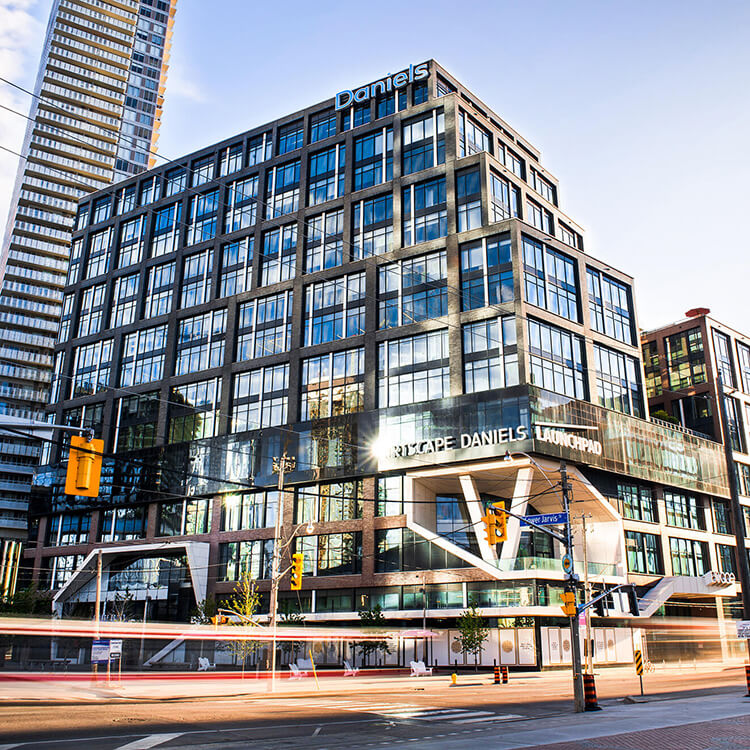 Commercial Properties
Explore flexible spaces in high-profile locations across the GTA and find the right one for your business.
Whether you're a large retailer or a growing start-up, we make it easy for businesses to find their place to set up shop. From leasing through to project management and ongoing property management, we're here to help find the right location, ensure the doors open on time, and look after day-to-day needs for years to come.